Awareness 3R
Title and Area
local Investigation08
Trainig 08
Site Visit 08
Okinawa
Outline
Life in Okinawa
FAQ
The Outline of Okinawa
The position
Okinawa prefecture is located in the southwest area in Japan.
From the prefectural capital of Naha city, it takes about two hours and 30 minutes to fly to Tokyo (approx. 1,550km), one hour and 30 minutes to Shanghai, China (approx. 820km), and one hour to Taiwan (approx. 630km).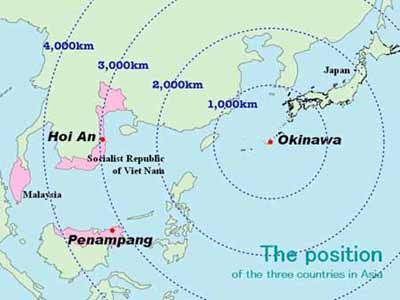 Outline
Okinawa, a prefecture which accounts for approximately 0.6% of the total land area of Japan, is the nations southwesternmost prefecture.




Area: 2,275.71km²
Total population:1,374,189
Population density:604 / km²
Municipalities: 41
Capital City: Naha city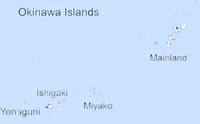 It consists of 160 islands that are scattered over a wide sea area spanning 1,000km from east to west and 400km from north to south. Approximately 1.3 million people live on fifty of these islands.
Nature
As the only Japanese prefecture with a subtropical oceanic climate, Okinawa is blessed with a rich natural environment that includes emerald green seas and sandy white beaches.
Okinawa's natural beauty along with its unique Culture attract approximately 4.12 million tourists each year from places such as mainland Japan, Taiwan and Korea. Okinawa has the hidden potential of becoming a resort destination for people from all over the globe.

Weather
The annual temperature differences change very little. Throughout the year, Okinawa maintains a moderate climate. The average temperature in Naha is 27.8°C (82.0°F) in the summer and 17.2°C (63.0°F) in the winter. The annual rainfall is about 2000ml. Summer is generally typhoon season, but the numbers vary from year to year.

History
Okinawa, as the Ryukyu Kingdom, opened trading routes in the 14th Century to China and other nations in South and East Asia, establishing a prosperous period called the Era of Great Trade. Through such exchange with various countries, the people of Okinawa created and then fostered distinct fine arts and a culture that attracts many people today with its performing arts, dyed textiles, lacquer ware and pottery.
Culture


Lacquerware




Eisa dance

Foods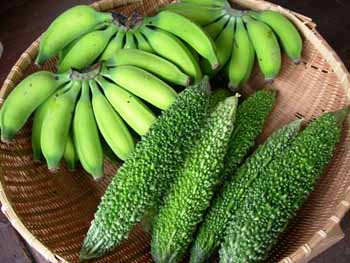 Native Bananas and Goya(bitter gourd,or bitter melon)